Wichita Falls Real Estate Market Report – September 2017
Enjoy this Wichita Falls Real Estate Market Report for September 2017.  You may also search for homes for sale and save your favorite properties.  Set up a search and be alerted when new properties matching your criteria come on the market.
Search Wichita Falls Area Homes for Sale by Price on WFMLS
Wichita Falls Housing Market Remains Strong through 2017
Here is a look at the Wichita Falls Real Estate Market for September 2017.  According to a report released on September 14th by the Wichita Falls Association of REALTORS® (WFAR) August 2017 saw 176 single family homes sold in August down from 177 homes sold in August 2016 while the average price dropped to $129K from $143K the year prior.  Homes for sale in Burkburnett TX are also strong indicating that sales throughout the region continue to look up.
A Look at Housing Stats
The Wichita Falls Association of REALTORS® (WFAR) covers 5 north Texas counties: Archer, Clay, Young, Wichita and Wilbarger.  In this area for the month of July 2017:
176 Sales Closed — Down from 177 in August 2016
164 Homes were In Contract expected to close soon
222 New Listings went on the market
Average Days on Market (DoM) = 63
Active Listings = 579
Month's of Inventory = 3.3 Months
In the last 6 months there have been 306 Expired Listings.

What Does This Data Mean?
When we look at the market trends the month's of inventory is a key number.  This number is the total number of sales in a given month divided into the total number of active listings.  In this case 579/176 = 3.3.  This means if no other listings were put on the market and the same number of homes continues to sell, it will take 3.3 months to exhaust the current inventory.  A neutral market is considered 6 months of inventory.  Anything less than 5 is considered a seller's market and anything greater than 7 is considered a buyer's market.
Wichita Falls is Currently in a Seller's Market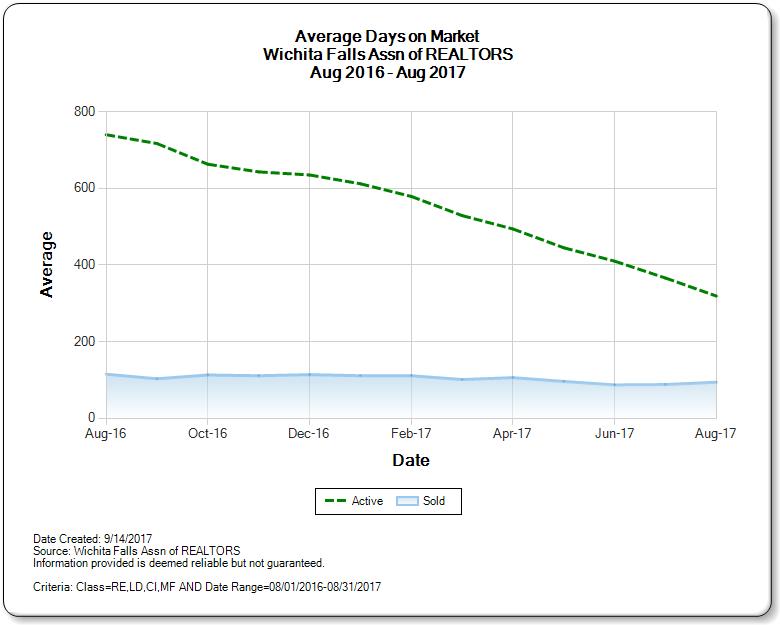 View Burkburnett TX Real Estate by Price
What Does This Data Mean if I am Selling a Home in 2017?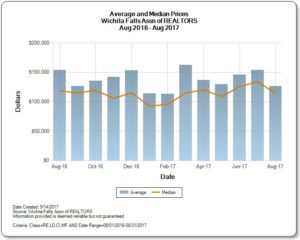 We currently have about a dozen pre-qualified buyers looking for homes in the Wichita Falls, Burkburnett and Iowa Park areas who have not yet found the home they want from the available active listings in the WFMLS.  Therefore, we are actively seeking new homes to list and enter the market.  Today there is kind of a tale of two markets.  What we are finding is homes that have been improved and are in top condition are selling quickly and selling for more money. Some of these improvements include the kitchen and bathrooms have been updated and there is new flooring and paint.  Then on the other hand, homes that are in need of updates, maybe the appliances are old and there are dated finishes and colors, are sitting on the market longer and are taking larger discounts than the actual cost of the repairs.  If you have an older home, there are some inexpensive and effective improvements that can be made that actually can net you more money in the end than selling in as-is condition.
Many homes selling quickly in todays market are updated and staged well.  For tips on staging check out our post How to Sell a House Fast in Wichita Falls.
The housing market is changing on a daily basis, and you need a real estate professional who monitors this market and is able to interpret it for you and advise you on how to reach your real estate goals.  To find out how recent sales have affected the value of your home, click here to obtain your home value online in only 15 seconds.
What Does This Data Mean if I am Buying a Home in 2017?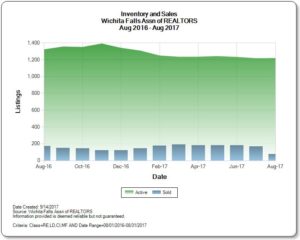 Interest rates fluctuate daily, and working with a good loan officer is important to obtain the best loan product for your situation.  There are some 100% financing options available today including VA and USDA backed loans.  There are also downpayment assistance programs in the form of grants and loans which are forgiven after a certain period of time living in the home.  Some times, the up-front fees of the downpayment assistance programs and higher interest rates make these sound really good at the beginning, however once the layers are pealed back, not so much.  In other situations, these assistance programs make great sense.  The key in today's market is to be pre-approved by a lender so when you find the home of your dreams, you are able to move quickly and ensure no one else snatches it from under your feet.
If you're looking for a move-in ready home, then you might the available inventory of homes for sale quite low in certain neighborhoods.  At the Lockhart Real Estate Team, we will take a few moments up front to get to know you and conduct a needs analysis and buyer's consultation.  This serves a couple purposes.  First we get to know you and your needs and wants to help us narrow down the hundreds of homes on the market to that select handful that truly meet your criteria.  Second, we are able to walk you through the buying process from beginning to end to ensure you are comfortable and confident moving forward.
For more information on the process to buy a home in Wichita Falls check out The 6 Steps to Buying Home.
Check out the Most Recent Homes for Sale in Wichita Falls
Burkburnett TX Real Estate For Sale by Neighborhood
See Other 2017 Wichita Falls Real Estate Market Reports