Tarrant County Real Estate Market Report – March 2018
Enjoy this Tarrant County Real Estate Market Report for March 2018.  You may also search for homes for sale and save your favorite properties.  Set up a search and be alerted when new properties matching your criteria come on the market.
Search Tarrant County Homes for Sale by Zip Code
Tarrant County Real Estate Market Continues Hot in 2018
Here is a look at the Tarrant County Real Estate Market for March 2018.  Compared to the same time last year, February experienced a 2.0% decrease in closed sales with an 4.5% decrease in new listings and average days on market of homes for sale in Arlington TX down to 39 days on market.
A Look at Housing Stats
Tarrant County real estate statistics are tracked in the North Texas Real Estate Information System (NTREIS), more commonly known as the Multiple Listing Service or MLS.  This is a look at all residential property types including single-family homes, condominiums, and townhouses, including both resale and new construction.  In Tarrant County, TX last month:
1,757 Sales Closed — Down 2.0% from 1,792 in February 2017

1,955 Homes were In Contract expected to close soon

2,336 New Listings went on the market, Down 4.5% from 2,446 in February 2017

Average Days on Market (DoM) = 39 Days Down 2.5% from 40 days in February 2017

Active Listings = 3,385 — Down 6.3% from 3,614 in February 2017

Month's of Inventory = 1.5 Months, Down 6.3% from 1.6 in February 2017
In the last 3 months there have been 638 listings expire without being sold.
From February of last year to February of this year the average price range for homes sold went up 0.1%
The trend in sales price has increased 0.1% from $257,628 in February 2017 to $257,872 in February 2018 with average list price to sales price ratio at 97.6% indicating that even with a monthly decrease in home sales, the market trend continues upward this year is resulting in higher prices.  Although the average sales price is off it's peak from a high point earlier last year.
Search Tarrant County Real Estate by Price
What Does This Data Mean?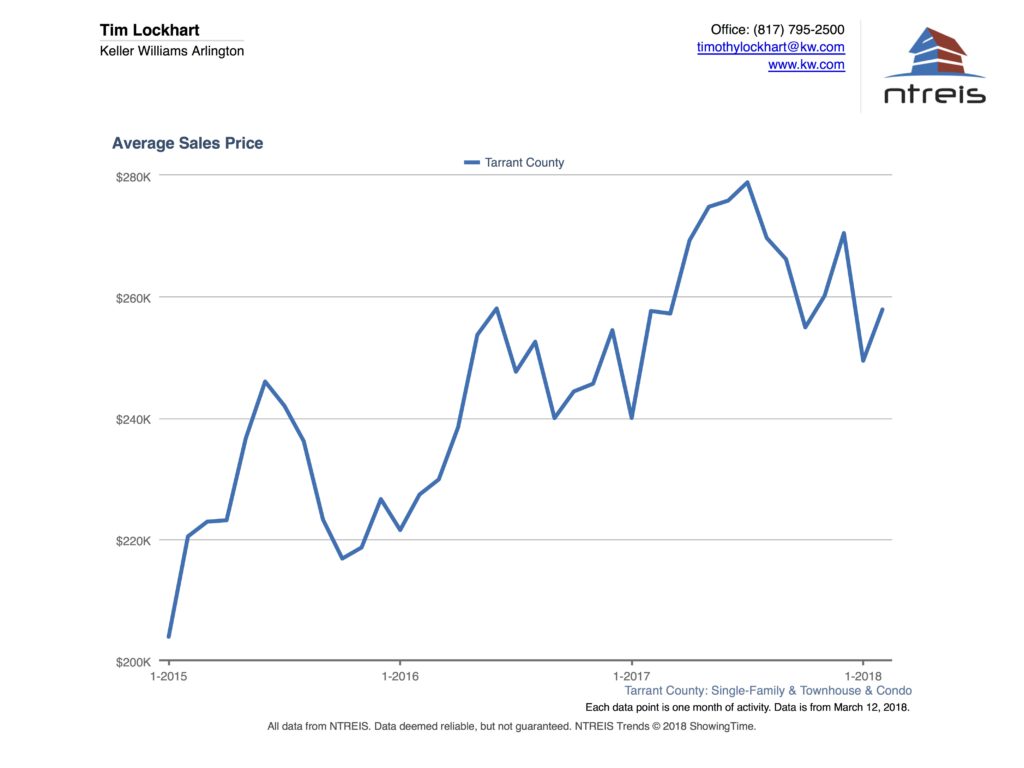 When we look at the market trends the month's of inventory is a key number.  This number is the total number of home sales in a given month divided into the total number of active listings.  A neutral market is considered 6 months of inventory.  Anything less than 5 is considered a seller's market and anything greater than 7 is considered a buyer's market.
Tarrant County is Currently in a strong Seller's Market
Others Have Asked . . .
If you are thinking of selling and wonder how much your house might sell for in today's Arlington TX Real Estate Market, use this
instant home value estimate
or call 940-228-1730. We serve north Texas, and have partners across the nation as well.
What Does This Data Mean if I am Selling a Home in 2018?
Want to beat the competition?  You will have more competition in the summer.  Now might be a really great time to sell a home.  After coming off 4 years of record sales and prices, many believe we are due to see a slowing of the rapid growth.  However, market conditions remain strong and the job market which is a primary driver of real estate remains great with record low unemployment numbers and many new people entering the labor force.  It is now time for spring break and days are getting longer. There are qualified buyers out in today's market as indicated by the extremely low days on market and rising prices, and these buyers who need to find a home now are not willing to wait for homes to be listed in the spring.  Therefore, they are going to choose from lower inventory meaning you have less competition.  And, what happens when there is high demand and low supply?    The supply and demand law states that when supply is limited and demand is high, then prices go up.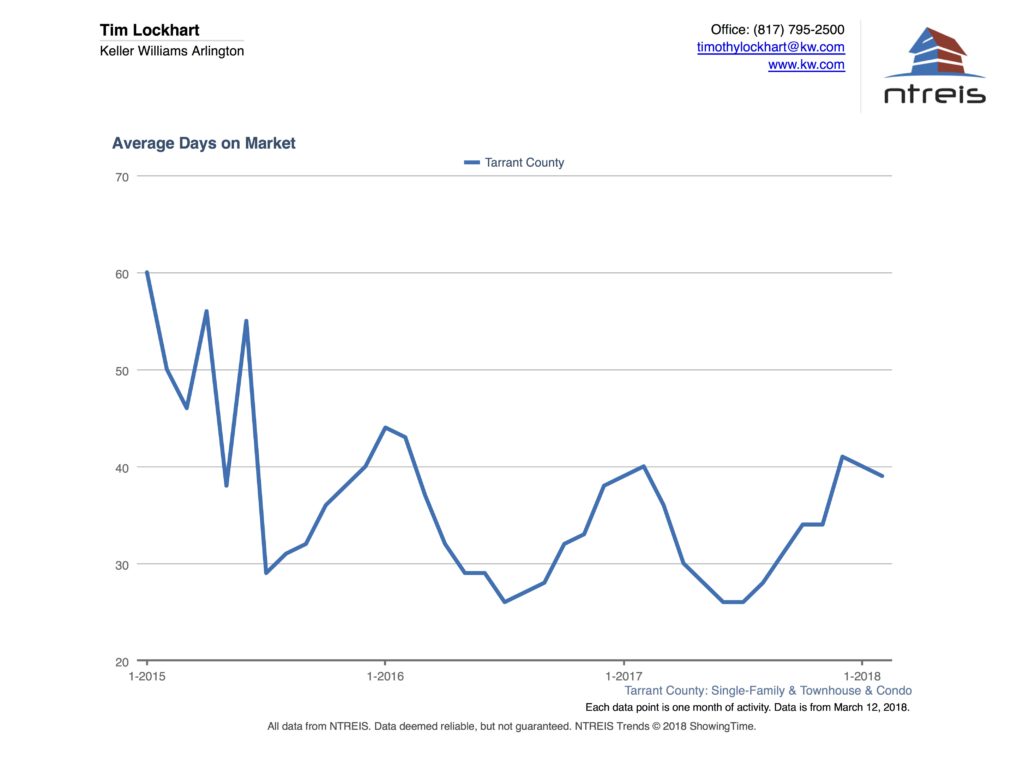 There are fewer, higher quality viewings during this time of year.  However, it will warm up and days will get longer quicker than you think, so to beat the summer rush it is a good time to sell into the current low inventory.

Are we beginning to see a shift in the market?  We truly won't know that answer until a few months after it happens when we can look back and say, ah yes, there was the top.  It looked like there was the beginning of the shift last fall, and now prices have started rising again.  There are some signs indicating a shifting market, however no one can really know where the exact top of the market is until we look back.  We are up month-to-month from a year ago.  Bank interest rates are increasing, however they have not risen to the point where they affect home affordability.  This could be similar to the downward trend which occurred at the beginning of last year which was short lived only to see the upward trend continue.  The new tax law passed in December 2017 have just now started to affect the average home buyer in Tarrant County and might cause people from high-tax states to look to move to Texas.  The limit of $10,000 deduction for local and property taxes could affect higher end homes, however if someone is buying a home over $500,000 which is twice the average price, tax savings is probably not the primary driver of their decision.
If your realtor is not tracking the market daily, then you might miss the opportunity to obtain top dollar for your home.  Now might actually be the best time to sell a home in Tarrant County TX.  Since there are fewer listings in the fall, the actual percentage of homes selling in the 3rd and 4th quarters actually remains fairly constant.  If you're considering selling your home in today's market, contrary to popular belief it takes a lot more than simply placing a sign in the yard and waiting for the phone to ring.
At the Lockhart Real Estate Team, we offer free consultations where we will review what the most recent homes have sold for that are most closely comparable to yours as well as look at the exiting active inventory buyers will see and compare to yours.  With this information in hand, we can develop a tailored marketing approach which starts with strategically pricing your home so it screams value to the buyers in today's market.
The housing market is changing on a daily basis, and you need a real estate professional who monitors this market and is able to interpret it for you and advise you on how to reach your real estate goals.  To find out how recent sales have affected the value of your home, click here to obtain your home value online in only 15 seconds.
View Most Recent Listings in Tarrant County
Read Archived Tarrant County Real Estate Market Reports | Compare this month to previous months
Tarrant County Real Estate Market Report Enjoy this Tarrant County Real Estate Market Report for this month.  You may also search for homes for sale and save your favorite properties.  Set up a search and be alerted when new properties matching your criteria come on the market. Search Tarrant County Homes for Sale by Zip […]