Wichita Falls Real Estate Market Report – February 2017
Enjoy this Wichita Falls Real Estate Market Report for February 2017.  You may also search for homes for sale and save your favorite properties.  Set up a search and be alerted when new properties matching your criteria come on the market.

Search Wichita Falls Area Homes for Sale by Price
Wichita Falls Housing Market Starts with a Bang in 2017
Here is a look at the Wichita Falls Real Estate Market for February 2017.  According to a report released on February 13th by the Wichita Falls Association of REALTORS® (WFAR) 2017 began with 117 single family homes sold in January up from 80 homes sold in January 2016.  This is a 46% increase in home sales year over year while the average price remained constant.
A Look at Housing Stats
The Wichita Falls Association of REALTORS® (WFAR) covers 5 counties: Archer, Clay, Young, Wichita and Wilbarger.  In this area for the month of January 2017:
117 Sales Closed — Up from 80 in January 2016
173 Homes were In Contract expected to close soon
200 New Listings went on the market
Average Days on Market (DoM) = 76
Active Listings = 551
Month's of Inventory = 4.7 Months
In the last 6 months there have been 133 Expired Listings.
The trend in median price is relatively flat indicating that even though there has been an increase in home sales, the market has not seen a corresponding increase in prices.
What Does This Data Mean?
When we look at the market trends the month's of inventory is a key number.  This number is the total number of sales in a given month divided into the total number of active listings.  In this case 117/551 = 4.7.  This means if no other listings were put on the market and the same number of homes continues to sell, it will take 4.7 months to exhaust the current inventory.  A neutral market is considered 6 months of inventory.  Anything less than 5 is considered a seller's market and anything greater than 7 is considered a buyer's market.
Wichita Falls is Currently in a Seller's Market
What Does This Data Mean if I am Selling a Home in 2017?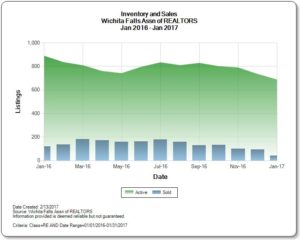 Even though we have remained in a slight seller's market for the most part of a year, there are still many buyers and buyer agents in the market who remember how long we were in a buyer's market and are still treating it as such.  In reality, pricing is still one of the most important factors when selling a home in today's market.  In January 2017 we had 200 new listings while only 117 homes sold indicating we still have more listings coming on the market than selling and the competition for the available buyers is still strong.  The difference is in condition of your home.  Many homes selling quickly in todays market are updated and staged well.  For tips on staging check out our post How to Sell a House Fast in Wichita Falls.
The housing market is changing on a daily basis, and you need a real estate professional who monitors this market and is able to interpret it for you and advise you on how to reach your real estate goals.  To find out how recent sales have affected the value of your home, click here to obtain your home value online in only 15 seconds.
What Does This Data Mean if I am Buying a Home in 2017?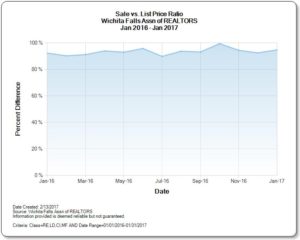 With home prices remaining steady and slight decrease in mortgage interest rates, there might not be a better time to buy a home.  When inventory goes down and demand goes up, prices tend to increase, however even though this has been the case for nearly a year, home prices remain flat.  Home sellers are negotiating for slightly less than list price and are not taking huge discounts in today's market.
Also, there has been a slight decrease in interest rates which increases home affordability.  Something to keep in mind as a home buyer is when interest rates increase 1% it decreases your purchasing power by 10%.  For example, the same monthly payment which will pay for a $150,000 home at 4.1% will only pay for a $135,000 home if interest rates increase to only 5.1%.  Home sellers are competing for buyers before interest rates increase and there are many great homes on the market at reasonable prices.
Check out the Most Recent Homes for Sale in Wichita Falls
See Other 2017 Wichita Falls Market Reports