This is a comprehensive guide which will explain how to sell your house fast in Wichita Falls Texas and surrounding north Texas communities.  We will discuss how to correctly price the home to sell, tips about staging and lighting, what are the most important rooms, how to choose an agent, what about the commission, even for sale by owner best practices.
If you are curious about what your home is worth in today's Wichita Falls real estate market, Call 940-228-1730 or use our Instant Home Valuation Calculator.  This tool allows you to obtain an on-line home value in only 15 seconds.
How to Sell Your House Fast in This Economy
The economy of Wichita Falls and all the north Texas region is strong and growing and it is possible to sell your home fast in Wichita Falls for top dollar with the fewest hassles.  Industry is expanding and is increasing.  The north Texas economy is dependent upon oil prices since there is a large percentage of oil jobs.  However, it is
worth noting that oil is not the only industry.  The largest single employer in Wichita Falls is Sheppard Air Force Base, however there is also a large medical community with the regional hospital, State hospital and many spinoff businesses related to the medical field.  There are also major industrial employers such as PPG and Alcoa Howmet.
Even though the population of Wichita Falls hasn't changed much lately, the consistent turnover with these major industries keeps the housing market vibrant throughout the year.
Throughout the year Wichita Falls unemployment rate has been lower than the national average, at 4.6% at the time of this writing as apposed to the national average of 5.2% according to Sperling's Best Places.
The local employment rate is an essential economic factor since home buyers must first have the ability to pay their mortgage to qualify with the lender.  The second most important factor is interest rates.  A slight move in interest rates can significantly impact home affordability.  Just a 1% rise in interest rates decreases the buyer's purchasing power by 10% for the same monthly payment.  For example, say a buyer is looking for a $150,000 home and receives a quote for their mortgage.  If interest rates increase 1%, then that same monthly payment will now only purchase a $135,000 home.
Are you looking to sell?  Maybe you're simply curious about what your home is worth in today's market.  Call 940-228-1730 or use our Instant Home Valuation Calculator.  This tool allows you to obtain an on-line home value in only 15 seconds.
It is important in today's economy to choose a real estate agent with experience and knowledge who watches home prices daily.  At the Lockhart Real Estate Team, we have listing and buying specialists who are focused on getting your home sold.  In this economy pricing your home right from the beginning is even more important than in other economies.  After pricing correctly, staging and updating are a close second.  In today's market we are in a competition and we must win a beauty contest and a price war.  In order to sell a home fast in today's market, we must create value in the eyes of the buyers.  It is essential for your real estate professional to know the homes in the neighborhood and be able to explain to you how your house compares to the other homes that have recently sold.
For a free needs analysis and consultation, call the Lockhart Real Estate Team today at 940-228-1730.
Effective Pricing Strategies for Today's Market
Pricing a home for sale is potentially the most important strategic decision you will make when you want to sell your house fast in Wichita Falls.  Today's buyers are even more savvy and astute than years before.  With the Internet tools available, buyers are able to compare the list price with other listings in the area, see the public tax records with the most recent sale dates.  Much of this information is available from the public records and is valid, however much of it is also incorrect.  Your real estate agent is able to provide you with the most recent sales in the neighborhood of similar homes in terms of age, size, number of bedrooms and other amenities.
Pricing is important because price is what gets buyers interested in making an appointment to view your home in person.  Many sellers assume they need to "price in negotiation room" so they want to price the home high so they have room to come down.  There is some validity to this thought, however since the buyers already have access to pricing data for similar homes, they already have a good idea what a fair price is and simply ignore overpriced homes until the sellers come down to a reasonable price.  It might surprise you to learn that pricing aggressively at the beginning can potentially help you sell faster with a higher net profit




You are in a competition!  When you list your home for sale you must win a Price War and a Beauty Contest.  What does this mean?  Well, in simple terms, buyers are looking for the home that meets their needs with the most features for the lowest price.  Value!  Buyers are looking for value.  Are you aware that most buyers in today's market look at 14 to 15 homes before selecting one?  That means your home is competing against 13 to 14 other homes.  How are you going to win that competition?  It all comes down to price.  Homes that are over priced tend to sit on the market and get stale.  Then buyers start asking: "What's wrong with this home that has caused it not to sell?"
You may have made many improvements to your home such as updating the kitchen and baths, maybe even an addition and are curious about if you will get the money you invested out of the house.  Some improvements yield a higher return than others and consulting with a real estate professional knowledgable about the local market conditions can be greatly advantageous before you sell as you are determining what work you may or may not want to pursue.
At the Lockhart Real Estate Team, we study the real estate market and home prices on a daily basis.  Effective pricing for your home encompasses many more factors than recent sales of other homes in the neighborhood, even though that is the place to start.  We take time to listen to you and learn your unique situation, goals and what is most important to you about this sale.
Are you looking to sell?  Maybe you're simply curious about what your home is worth in today's market.  Call 940-228-1730 or use our Instant Home Valuation Calculator.  This tool allows you to obtain an on-line home value in only 15 seconds.
Home Staging Best Practices
If pricing a home for sale correctly is the most important thing for attracting buyers to choose to make an appointment to view your home in person, staging is the most important thing to move them to make a buying decision.
You might have heard that people buy on emotion and justify their decision with logic.  Even if your home you are selling is a logical fit for the buyer, if it has the right number of bedrooms, bathrooms, correct living space and is in the right location, the buyers are less likely to make an offer if they do not fall in love with the home from the moment they enter.
You can find out what your home is worth in today's market easily.  Either call us at 940-228-1730 or use our Instant Home Valuation Calculator.  This tool allows you to obtain an on-line home value in a quick 15 seconds.
There are two main keys to staging a home correctly to sell your house fast in Wichita Falls.  We want it decluttered and depersonalized.  An analogy I give sellers is a museum versus a hotel room.  When you walk into some museums, everything is nice and ornate, however often times multiple pictures and artifacts are on the same wall and it can become overwhelming.  On the other hand, think of the last time you walked into a hotel room.  A typical hotel room is decorated with neutral colors, there is one bed, a desk, a mirror, an usually one picture on the wall.  Everyone feels welcomed and comfortable when walking into the room.
The reason to depersonalize the home is we want home buyers to enter your home and see themselves and their family living in the home, honestly not yours.  You are selling your home and will be moving, so it is best practice to start is with family photographs and personal items now.  Go ahead and prepare the first boxes to be opened in your new home with those personal items that mean so much to you.
Then you can move on to arranging furniture and making your home open, clean, bright and inviting.  We have many resources available to home sellers, if you would like more information about staging your home to sell, give the Lockhart Real Estate Team a call at 940-228-1730.
How to Best Prepare for Showings
Now that you have your house on the market, what do you do when your agent calls you to schedule a showing?  You've heard the expression you never get a second chance to make a first impression.  This cannot be more true than in the home selling process.

Many home buyers make their buying decision in the first 30 seconds after entering the home.  Is your home welcoming and inviting?  It is best practice to turn the lights on prior to the showing and have some light, relaxing music playing.  It is also a good idea to make sure the temperature is comfortable.  In the summer you will want the air conditioner on set to a comfortable temperature, not too cold or too warm.  In the winter, you will want to have the heat on.
It might be surprising to learn that our sense of smell is one of the strongest of our five senses tied to memory.  So, having some scent candles or plug in air fresheners can really make the difference between a potential buyer making a buying decision and making you an offer or not.  Some of the best scents to choose to sell your house fast in Wichita Falls are lavender or apple cinnamon.
Since you might be at work and may not be able to rush back home before a showing, it is important to take a few moments before leaving for the day to wash dishes and put them away in the dishwasher, and clothes in a hamper.  Even if your are living in the home you are selling, you will want to keep it as neat and clean as possible.
The market is constantly changing.  Each home that sells in your neighborhood changes the value of your home.   Call 940-228-1730 or use our Instant Home Valuation Calculator.  This tool allows you to obtain an on-line home value in only 15 seconds.
Choosing the Right REALTOR® to Sell Your House Fast in Wichita Falls
Choosing the right REALOR® to sell your house fast in Wichita Falls is a very important decision.  According to a National Association of Realtors (NAR) study among sellers, 76% interviewed only one agent and 16% interviewed only two agents.  So, being first in the door gives any agent a high probability of being hired for the job to sell your house.  However, it takes more than simply sticking a sign in the yard and loading your property in the multiple listing service (MLS) data base.
Communication
Your needs come first. At the Lockhart Real Estate Team, Keller Williams Realty, we provide the service we agree to, in the ways that work for you. How do you prefer to be communicated with?
You'll always be kept in the loop. From listing to closing, you'll know the status of our marketing efforts, the offers on the table and the steps leading to a successful closing once an offer is accepted.  We'll agree on the communication method that works best for you.
Experience and Expertise
The complexities of your real estate transaction will be well-handled. Smoothing the way for your listing and sale, we will capably remove many potential challenges before they have the opportunity to appear.
Marketing
Your home will get the exposure it deserves. Our aggressive marketing systems maximize your property's exposure to buyers.  Aggressive social media marketing and automated buyer calling systems allow us to reach active buyers who want to know about your listing.
Questions to ask your agent:
Are you a full-time or part-time agent?
Do you prospect daily to find buyers for my home?
Do you service all listing by yourself or do you have the support of a team of specialists?
How many sellers and buyers are you currently representing?
What is your Internet marketing program?
What is your policy on responding to phone calls/emails/text messages?
How much of your business is generated by referrals?
How many homes have you sold in the last 12 months?
What is your level of community involvement, and how does that help you sell my home?
Are you a member of the Chamber of Commerce?
Are you a member of the Better Business Bureau? What is your rating? What references can you provide?
Do you offer an "easy exit" listing so that I can end our agreement if I am not satisfied?
We guarantee your satisfaction. Our relationship is dependent upon exceeding your expectations. We identify your needs together, and our cancellation guarantee protects your right to end our relationship if you're disappointed.
Communication makes all the difference.
You'll always know what's going on behind the scenes while your property is listed.
We will solicit feedback from each consumer and agent who views your property, passing their comments on to you.
We will work together to formulate a price adjustment strategy that sees us through your listing period. You'll receive regular progress reports, delivered as frequently as you request. Whether you prefer a phone call or an email, that's what you'll get.
The market is constantly changing.  Each home that sells in your neighborhood changes the value of your home.   Call 940-228-1730 or use our Instant Home Valuation Calculator.  This tool allows you to obtain an on-line home value in only 15 seconds.
Should I List with a Team or an Individual Agent?
Should I list my home for sale with a team or with an individual agent is a very important question to consider when choosing to sell your house fast in Wichita Falls in today's market.  There are diverse opinions about this in the industry.  According to the National Association of REALTORS® Field Guide to Quick Real Estate Statistics, updated December 2016, 5,250,000 existing home and 510,000 newly constructed homes were sold in 2015 and there were 1,241,548 members of the National Association of REALTORS®.  Therefore, on average 4.6 homes were sold per agent.  Taking in to account that many agents are part time and many just work as a hobby, it is commonly estimated the average agent sells 4-8 homes per year.
When you are looking to sell your home, do you want an expert who is making a mark and growing their business, or someone treating this as a hobby who may be average or worse?
Agents who choose to build a team are treating their real estate career as a business.  At the Lockhart Real Estate Team, we have drawn together a team of specialists each focussed on one thing — exceeding expectations of our clients and getting homes sold.  In the last three years, our business has grown an average of 122% per year over the last four years.  No one succeeds alone, and a team of specialists is key to succeeding at a high level in the highly competitive business of real estate.


The analogy we use is a doctor's office.  When your child breaks their arm and you walk into the emergency room, what happens?  First, your met by a receptionist who signs you in, asks for what is wrong and conducts initial triage determining which patients have the most critical injuries.  Then, you are taken back by a nurse who takes vital signs such as weight, temperature, blood pressure, etc.  Then you are taken back to the waiting area.  Next, another nurse may take you back to have an x-ray taken by a radiologist.  Then you are brought to a room where you may get an initial splint.  Finally, the doctor comes in, reviews the x-ray, diagnoses the problem and determines a course of treatment which is then executed by the nurse.  This system designed around a team of specialists allows each person to operate at the highest efficiency, serving the largest number of patients with the best level of care.  What would this look like if the doctor was the only person in the office, signing in all the patients, conducting triage, serving the clients with emergency life-threatening injuries while also diagnosing and getting vital signs of all the walk-in people.  How many patients could this doctor serve?  Is it any wonder why the average real estate agent only sells 4-8 homes per year?
Are you looking to sell?  Maybe you're simply curious about what your home is worth in today's market.  Call 940-228-1730 or use our Instant Home Valuation Calculator.  This tool allows you to obtain an on-line home value in only 15 seconds.
How to Choose the Right Colors to Sell Your Home Fast
Sellers frequently ask if they should go ahead and paint or do other work or let potential buyers choose the colors they want.  The answer is simple.  As long as light, neutral colors are used a freshly painted house is a key component of staging your home to sell your home fast in Wichita Falls.  It is proven that people make buying decisions based on emotion and back up those decisions with logic.  Therefore, creating a bright, clean and welcoming environment will evoke the favorable emotions in buyers' minds which lead to a decision.
Best colors for Today
Neutral colors are the best when choosing to paint your home before putting it on the market.  Color tones of beige, tan, grey and white are the best to use.
People can customize the living space with their furniture, pictures, throw pillows, and blankets.  Sherwin Williams 2017 Color Forecast is a good source for determining the best colors for today used by architects and home builders.  Today's color pallet has a feel of comfortable luxury.
We're in pursuit of an elusive ideal: a fair luxury. The roads of this journey are lined with arctic neutrals, blush rose and wild browns. – Sherwin Williams 2017 Color Forecast
The cool tones are calm and inviting.  Tones of grey are very popular right now with white accents.  Some builders are reversing the colors using a darker grey on doors and trim, with lighter grey on the walls.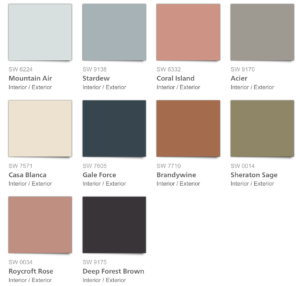 Color is not the only consideration when selecting paint.  The sheen is also important.  Flat is the least expensive and less durable in that it is more difficult to clean dirt and scuffs.  The more gloss added to the paint makes the sheen more reflective and also more durable.  The spectrum of sheen goes from flat to eggshell to satin to high gloss.  Many people prefer eggshell for the walls and satin for the doors and trim.  The eggshell finish gives just enough gloss to make the walls easier to clean and more durable, yet avoids the industrial look of high gloss.  Using satin on the doors and trim gives an extra accent which is subtle yet effective.
The market is constantly changing.  Each home that sells in your neighborhood changes the value of your home.   Call 940-228-1730 or use our Instant Home Valuation Calculator.  The Lockhart Real Estate Team | Keller Williams Realty specializes in selling homes in Wichita Falls and north Texas communities.  This tool allows you to obtain an on-line home value in only 15 seconds.
How to Sell Your House Fast for Cash
When you are looking for a quick sale of your real estate, selling for cash is appealing. There are many advantages to receiving a cash offer.
First, since there is no lender involved, the transaction can close quickly. The lending process today with all the federal regulations with which banks must comply is the long pole in the tent for most sales. The lending process itself can take 30 days, sometimes even 45 days to complete depending on the type of loan and borrower qualifications. Selling to a cash buyer eliminates this entire headache. The only thing that really must be done is the title search by the title company who will close the transaction and issue the title policy. This title search can be completed within one to two weeks.
Cash sales are prevalent in every market, however more common in down markets than they are when conditions improve. In June 2016 cash sales of homes dropped below 30% to 29.3% according to Core Logic who tracks real estate statistics. Cash transactions peaked in 2011 when they reached 46.7%. Historically, cash sales have averaged around 25% of all home sales across the nation



A second advantage of dealing with a cash buyer for your home is cash buyers are often easier to deal with when it comes to inspections. Some will most likely be willing to take a home as-is or with minimal repairs. Cash buyers might be investors looking for investment property or empty nesters who sold a larger home looking to downsize. Since there is not a lender involved, many of the time consuming tasks that hinder other homes from closing are eliminated.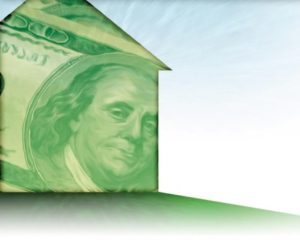 Why would you not want to work with cash buyers? Well, just based on the percentages, not willing to work with buyers who obtain bank financing, then 70% of the buyer pool will be eliminated. Another reason why a cash offer might not be as good for you is cash buyers are typically smart and know that there is a great deal of value in the fact they have cash and can close quickly. If those things are important to you the seller, the buyers might ask for a discount on the sales price because of the value they are brining with the cash offer.
If an investor is buying a house for investment purposes, then they have other costs they are calculating into the offer. If they are buying the home and planning on doing some updating or renovations, then they will have holding costs to pay for interest, taxes and insurance while the work is being completed, plus the cost of the work itself. There is also the risk they are assuming that they may not get it filled as quickly as estimated which could result in additional holding costs.
Therefore, while it might be appealing to work with cash buyers, if you needs are the highest price and closing within a couple weeks is not as important to you, then considering working with buyers who have a pre-approval from a reputable lender might get you more of what you want.
The market is constantly changing.  Each home that sells in your neighborhood changes the value of your home.   Call 940-228-1730 or use our Instant Home Valuation Calculator.  This tool allows you to obtain an on-line home value in only 15 seconds.
Selling Your House Fast As Is
When you own a home that needs work and updating and you are looking at selling your home fast as is, what are your options?  When we sit down with sellers, we often get questions about whether they should invest in updating the house or repairing items or selling as is.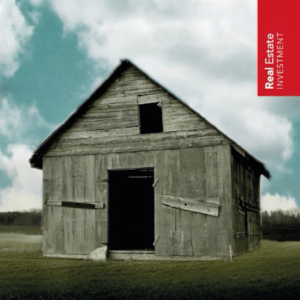 The answers are dependent upon the needs and desired outcome for the sellers.  One thing we demonstrate when sitting down with sellers using specific numbers for their situation is most often they will net more money at the closing of their home if the invest in updating or repairing their home prior to marketing it for sale.
A home that is in good repair, which is staged well, has neutral colors and is bright, clean and inviting yields a higher return and sells faster than homes that require work.
The fist question homeowners should ask themselves, and answer for their real estate agent is which market do you want to target?  Are you looking to market to the retail market or the wholesale/investor market?  These are two completely different buyers with completely different buying objectives.
If you are marketing to the investor market, then selling as is can get you a quicker sale with less hassles since the buyer will be looking for a project, a home which needs work so they can invest and increase the value through improvements.  However, the investor will obviously pay a lower price.  So, if the homeowner does not have the money to make capital improvements prior to the sale, and they have equity, this might be the best option.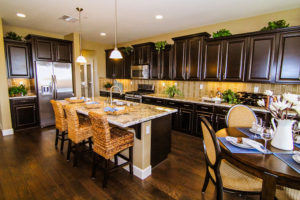 However, if you have the money to invest in some improvements, even if a temporary loan is required, you may yield a quicker sale, higher price and a larger net profit by marketing to the larger retail market.  Most people and families looking for a home in which they will live are not looking for a project.  Moving is stressful enough without having to make repairs to a home after you move in.
When homebuyers are looking at homes, they have many to choose from in today's market.  When they walk into a room needing to be painted for instance, do they calculate the actual cost of five gallons of paint and some supplies, or do they calculate the cost of paying a professional painter?  Most of the time they calculate the cost of a professional painter and actually over estimate in their mind.  Also, with the choices available, a large number of buyers are viewing homes looking for reasons to eliminate that choice rather than looking for items to overlook.
The market is constantly changing.  Each home that sells in your neighborhood changes the value of your home.   Call 940-228-1730 or use our Instant Home Valuation Calculator.  This tool allows you to obtain an on-line home value in only 15 seconds.
Cosmetic Updates
Are there items such as paint, flooring, counter tops, light and plumbing fixtures that are worn, outdated or non-functioning in your home?  If you are marketing to the retail market looking for an owner-occupant to buy your home, then these are simple fixes that greatly enhance the marketability of your home.  The most important rooms in your home are the kitchen and the bathrooms.  Make sure everything else is clean and in good condition, and invest more in the kitchen and bathrooms.
Code Violations
Specifically in older homes, are there items such as electrical and plumbing systems that do not meet current codes?  The home must meet current building codes if major work is done, otherwise the codes in place at the time of construction are the governing rules.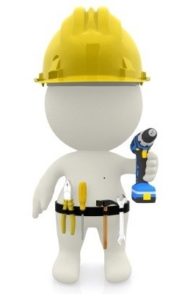 Some things are good ideas and simple fixes such as installing Ground-fault Interrupt (GFI) outlets in the kitchen and bathrooms near the sinks where water is prevalent.  While this might not be required for your home, it could be a simple fix increasing the safety of your home.
Other items might be life, health or safety issues in the home.  These are the main concerns to most homebuyers today and if they exist will be good to rectify.  These items might not actually increase the value of your home; however the discount a buyer might ask for might be more than the cost of the actual repairs.
Major Systems
Retail buyers do not want to buy homes with major systems issues.  If there are problems with the roof, foundation, heating, ventilation and air conditioning (HVAC), electrical or plumbing systems that you are not willing or able to repair, then your target market will be the investor.  These are systems retail buyers expect to be in good repair, so spending money here will not increase the value of your home above the comparable homes which have sold in the area, but it will help you to receive fair market value for your home, rather than settling for a large discount.
Every person's situation is different and we have experience with both retail and investor sales.  To schedule a no-obligation consultation to explore your options and the affect of each on your bottom-line net, call the Lockhart Real Estate Team | Keller Williams Realty at 940-228-1730 today.
How to Sell a House with Pets
We love our pets, and whether we prefer dogs, cats or more exotic animals, when you are looking to sell your house fast with pets, we are wise to keep in mind that it is all about the buyer.  If you are a dog or a cat lover, it might be difficult to understand how other people might not be as excited about your pet as you are.  We must realize that not everyone grew up with pets in the house and having the presence of pets might turn away some potential home buyers.
When you have pets, the best practice is to find an alternate location for them during showings.  If you are able to have a neighbor watch them for a few minutes while the house is being shown, then this is a wonderful solution.  If not, maybe you, a friend or a relative could take your pets for a walk to get them some exercise while your home is being shown.  This gives the potential buyer of your home free and unhindered access to your home during the viewing.
Remember, the goal during a showing is to make the potential buyer feel as comfortable in your home as possible so they can see themselves living here calling it their home.  The more comfortable they are, the longer they will stay, and the longer they stay, the more likely they are to make an offer.
Most people make a decision on whether they are interested in a home within the first 15 seconds after entering the home.  This is why it is very important to have the home bright, clean and have pleasant smells.  Plug-in air fresheners with apple cinnamon or lavender are very appealing to home buyers of all tastes.
How to Sell a House with Owner Financing
When looking to seller your home fast, one thing to consider is eliminating as many hinderances there are for buyers of your home.  The price and the condition are extremely important factors.  Another factor that is very important to buyers is financing.  Would you consider owner financing your home?  If so, are you aware of the risks involved and how this decision will affect your ability to buy another home.
When you decide to owner finance your home then you become the bank.  This can be a better option than renting.  When you rent, you are still the owner and must deal with tenants, maintenance, turnover and taking calls at all hours of the night and weekend.  It can be a real burden.  On the other hand, if someone owns a home and has a loan with a financial institution such as Chase Bank or Bank of America, do they get called when the toilet overflows or the air conditioner goes out?  Of course not.  Therefore, when you owner finance your home, you get the monthly income as you would in a lease without the headache of tenants and toilets.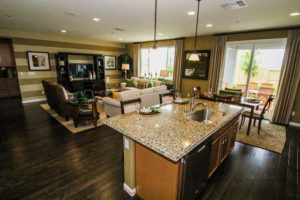 If you have a mortgage on your home, it does not necessarily need to be paid off.  We recommend you speak with a local attorney versed in real estate law on the specifics.  However, in general you can speak with your lender and in some cases they will allow you to do what is termed a Wrap mortgage.  This is when the original loan stays in place and the new note you're carrying for your buyer "wraps" around the existing financing.  So, you take the payment from your buyer each month and pay your mortgage payment similar to what you would do if the home was leased.  Not all lenders will agree to this, however when they do it makes sense in a lot of cases.  This could also be used in an investing model, however there is another consideration, which is the SAFE Act.
The SAFE Act was passed after the 2008 housing crisis as a way to protect consumers from the big banks.  Each state is required to pass their own version of the act and the federal regulations governing the execution of this at the federal level are still fuzzy.  Yes, that is the technical term, the rules are fuzzy to say the least.  If this is an avenue you wish to pursue, get a lawyer well versed in real estate law because if you do this wrong the fines and penalties are significant.
If you do choose to owner finance, you could do so on your own, with an attorney or with a real estate agent.  Keep in mind that there will still be closing cost on your side as a seller, so make sure whatever down payment you agree to covers your expenses since it would not be fun to come out of pocket to sell your home when taking the note.
What are some other considerations?  Since, you are the bank, you are going to want to qualify your buyer on their ability to pay just as the bank would.  If your buyer does not pay, then you will foreclose and take the house back.
What is there to protect you from the buyers defaulting on the payments?  Well there will be a note, and in Texas we are a deed of trust state, so you will have a deed of trust filed at the court.  These two documents together protect you and basically say if the buyer does not pay in accordance with the note, you have the legal right to take possession of the house through the foreclosure process.  You will also want to be named as a co-insured on the homeowner's insurance police so that in the event something happens to the home you have a collateral such as a fire, you will be compensated as a note holder.  There is also title insurance which insures your interest in the title.
Every situation is unique and owner financing might be a good solution for you.  As outlined above, there are several advantage as well as several items of caution.  If you are looking to sell your home and would like to know what other homes in the neighborhood have sold for most recently, check out our online home valuation tool and give us a call at 940-228-1730 and we will be happy to explore available options with you.
How to Sell Your House by Owner in Texas
One of the considerations you may have when it is time to sell your home is how to sell your house by owner in Texas.  Many people consider this option.  After all, a joke in the industry which unfortunately has too much basis in reality goes as follows.  "How do you stop the calls from real estate agents?  … List your house with them."  The National Association of REALTORS® tracks statistics for us and determined that 8% of homes sold in 2015 were by owner sales.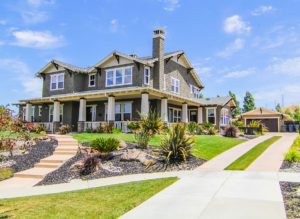 This can be a good option for you if you are selling to a friend or family member and know exactly what you want for the home and have negotiated with the buyer.  Since most people on average buy or sell a home once every 7 to 10 years, the odds are the laws and regulations have changed since your last purchase.  Therefore, it is highly advisable to seek professional service at least for drafting the documents and ensuring the disclosures are completed correctly since the penalties for non-compliance can be hefty.
Individuals have two options for obtaining professional services for completing these contracts and disclosures.  You could hire a lawyer to draft the documents or you could use a real estate agent.  Lawyers charge by the hour and are paid for their services whether the home actually sells or not.  On the other hand, you could hire a real estate agent to assist with the documentation and real estate agents get paid upon closing and funding which aligns their interests in lockstep with yours.
For Sale By Owner (FSBO) Statistics

FSBOs accounted for 8% of home sales in 2015. The typical FSBO home sold for $185,000 compared to $240,000 for agent-assisted home sales.

FSBO methods used to market home:

Yard sign: 33%

Friends, relatives, or neighbors: 21%

Online classified advertisements: 10%

Open house: 21%

For-sale-by-owner websites: 7%

Social networking websites (e.g. Facebook, Twitter, etc.): 9%

Multiple Listing Service (MLS) website: 13%

Print newspaper advertisement: 3%

Direct mail (flyers, postcards, etc.): 2%

Video: 1%

None: Did not actively market home: 41%

Most difficult tasks for FSBO sellers:

Getting the right price: 18%

Preparing/fixing up home for sale: 13%

Understanding and performing paperwork: 12%

Selling within the planned length of time: 3%

Having enough time to devote to all aspects of the sale: 3%

Source: 2016 National Association of REALTORS® Profile of Home Buyers and Sellers
Would you like to use the same Internet and social media marketing tools that we use to get homes sold absolutely free with no obligation?  Any buyer leads you generate will go directly to you.  We will give you all our tools, a single property website optimized to generate buyer leads, posts specifically designed for social media posts to share with your circle of influence or to run ads all created for you.  If you're interested in using these powerful marketing tools, simply give us a call at 940-228-1730 or send us an email today.