Wichita Falls Real Estate Market Report – March
 

2017

Enjoy this Wichita Falls Real Estate Market Report for March 2017.  You may also search for homes for sale and save your favorite properties.  Set up a search and be alerted when new properties matching your criteria come on the market.
Search Wichita Falls Area Homes for Sale by Price
Wichita Falls Housing Market Starts with a Bang in 2017
Here is a look at the Wichita Falls Real Estate Market for February 2017.  According to a report released on March 14th by the Wichita Falls Association of REALTORS® (WFAR) there were 117 single family homes sold in February up from 115 homes sold in February 2016.  This is a 2% increase in home sales year over year while the average price remained constant.
A Look at Housing Stats
The Wichita Falls Association of REALTORS® (WFAR) covers 5 north Texas counties: Archer, Clay, Young, Wichita and Wilbarger.  In this area for the month of February 2017:
117 Sales Closed — Up from 115 in February 2016
197 Homes were In Contract expected to close soon
188 New Listings went on the market
Average Days on Market (DoM) = 81
Active Listings = 541
Month's of Inventory = 4.6 Months
In the last 6 months there have been 148 Expired Listings.
The trend in median price is relatively flat indicating that even though there has been an increase in home sales, the market has not seen a corresponding increase in prices.
What Does This Data Mean?
When we look at the market trends the month's of inventory is a key number.  This number is the total number of sales in a given month divided into the total number of active listings.  In this case 117/541 = 4.6.  This means if no other listings were put on the market and the same number of homes continues to sell, it will take 4.7 months to exhaust the current inventory.  A neutral market is considered 6 months of inventory.  Anything less than 5 is considered a seller's market and anything greater than 7 is considered a buyer's market.
Wichita Falls is Currently in a Seller's Market
What Does This Data Mean if I am Selling a Home in 2017?
Most students are out of school for spring break this week and we just turned the clocks forward for Daylight Savings Time.  Buyers now have more time to look at homes in the evening after work which means more buyers will be out searching.  Weather is getting warmer and families are starting to think of moving between school years.  With Sheppard AFB here, the summer PCS season is about to begin.  All this points toward more buyers in the market and we are already ending the first quarter in a strong seller's market.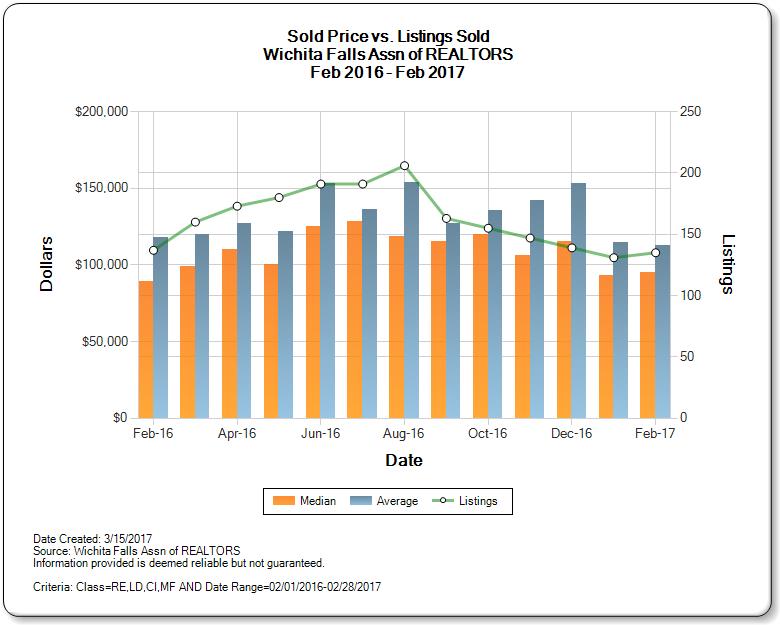 Another thing to consider is the Federal Reserve is meeting this week and the markets have priced in a 100% chance they will increase short-term interest rates at least 0.25% and the markets are expecting at least 3 rate hikes this year.  This has already started to affect mortgage rates.  If you've seen any of my other posts on the subject, you will remember that a 1% increase in mortgage rates decreases the buyer's purchasing power by 10%.  So, the monthly payment for a $200,000 home today will only buy a $180,000 home for the same monthly payment when interest rates increase 1%.
The housing market is changing on a daily basis, and you need a real estate professional who monitors this market and is able to interpret it for you and advise you on how to reach your real estate goals.  To find out how recent sales have affected the value of your home, click here to obtain your home value online in only 15 seconds.
Many neighborhoods we work have very few homes on the market, so strategically hitting the market early by listing your home for sale sooner will give you an advantage over all the other sellers who are waiting for the summer.
In the graph above, for the last 12 months in the Wichita Falls TX housing market you can see the number of listings is significantly down from the peak of the market last August.  And also that the average price of homes which sold each month is slightly higher than the median price with the largest difference in November and December.  With low inventory and high demand, the supply/demand cycle is indicating higher prices in the future if this trend continues.
What Does This Data Mean if I am Buying a Home in 2017?
There remains several good homes on the market at various price points.  Housing in this area remains extremely affordable and Wichita Falls was named in the Top 10 cities in the United States for people looking for early retirement published by CNBC, and affordable housing weighed heavily on the criteria.  Wichita Falls continues to make such lists with affordable cost of living and great housing options for the dollar.
One thing as a buyer you will want to be watching this year are the interest rates.  The Federal Reserve is meeting this week and is expected to raise the Fed rate for short-term interest rates by 0.25%.  Most of the financial channels are predicting at least 3 rate hikes in 2017 and are even speaking about the potential for 4.  Interest rates have remained at historic lows for almost a decade.  If you look back over the last 50 years, the average mortgage loan rate is about 7% and currently they remain around 4%.  The so-called "experts" have been predicting interest rates will rise every year.  When I speak with buyers I tell them that I don't know when they will go up, but at some point the "experts" will be right.  So, there is still room for the rates to increase without significantly hurting the housing market.  However, as a buyer you should keep in mind that a 1% increase in interest rates decreases your purchasing power by 10% on the value of the home you're looking for at the same monthly payment.  Therefore, if you are looking to buy a home in the next year, it might be wise to consider moving up your timeline to beat the rate hikes which look like will finally hit the market in 2017.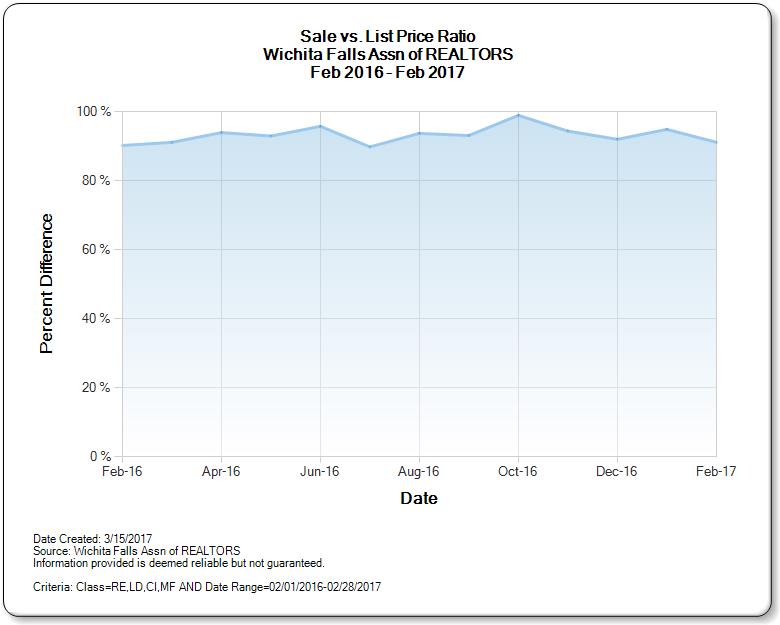 In the graph above, you can see that the list price to sales price ratio has decreased in the last few months meaning that sellers have been more willing to negotiate.  With the decrease in available listings and only 4.6 months of inventory placing us firmly in a seller's market, this trent appears to be ready to reverse.  Therefore, as a buyer in today's market there is upward pressure on prices and upward pressure on interest rates.  Now, might just be the best time to buy a home in Wichita Falls this year.
For more information on the process to buy a home in Wichita Falls check out The 6 Steps to Buying Home.
Check out the Most Recent Homes for Sale in Wichita Falls
See Other 2017 Wichita Falls Market Reports