Search Iowa Park Real Estate for Sale in 76367 by Price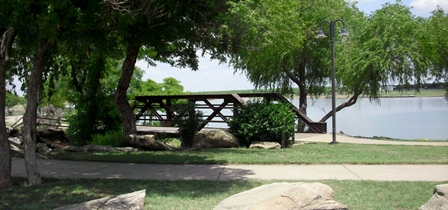 Iowa Park is located 13 miles west of downtown Wichita Falls and 12 miles west of Sheppard AFB along Highway 287.  Iowa Park covers a land area of 4 square miles and  has a population of slightly over 6,000 people.  The zip code is 76367.  Iowa Park real estate residents enjoy the quiet and relaxed environment close enough to the conveniences of the larger city of Wichita Falls, yet with a slower, more casual feel.  The schools are in the Iowa Park Independent School District.  The median price for Iowa Park real estate in the WFMLS is approximately  $90,000, and the average appreciation over the last 10 years has been 14.56%. Iowa Park public schools spend $12,767 per student, which is slightly greater than the average school expenditure across the U.S.  Homes in Iowa Park range from below $100,000 to over $500,000.
Iowa Park is an ideal location for families to live if looking to relocate to north Texas.  A laid back city with a smaller population than many cities in America.  Many military families choose Iowa Park real estate because it close to the base and the housing reasonably priced with many homes offering acreage not available in larger cities.  Those who enjoy outdoor activities prefer spending time with their families at the Iowa Park Municipal Pool/Spray Park and Gordon Lake.  
The Handbook of Texas by the Texas State Historical Association gives a brief history of Iowa Park including it was founded in 1888 on the Fort Worth to Denver rail line and the Texas Panhandle company started an immigration train from Iowa Park to the panhandle area.  In that same year a U.S Post Office was established.
The community developed into an agricultural marketing center, making use of its rail connection to ship wheat and cotton produced on area farms. – Handbook of Texas
Iowa Park is featured on The Best Places to Live website for it's low cost of living, easy commutes and low crime.  If you are relocating to the Texoma region and enjoy these qualities, then Iowa Park should be high on your list.
The Iowa Park CISD serves all grades from Kindergarten through Grade 12 and boasts a 97% graduation rate according to USNews and World Report.  Iowa Park High School, Home of the Hawks is rated highly on Great Schools website.  Being a small town there are many homes within walking distance of the schools.
Annual Events in Iowa Park
Each year at Christmas the Tom Burnett Memorial Library hosts the annual Light Up Christmas Event.  This community event is where the Christmas lights are turned on for the first time.  Refreshments are provided and music by the High School Band and Bradford Singers.  Plan on brining the family out for this event each year.
At the beginning of May features the Tailgates and Taillights Cruise.  The whole family can come out to enjoy a burnout, cruise, tailgating competition and an outdoor movie.
On the first Saturday in May, the Chamber of Commerce hosts Park Fest that includes a street festival at Gordon Lake with a car show.
High School Homecoming week brings the whole community together at Whoop-to-do on Saturday following the Homecoming Football Game.    There is a street festival at Cash St with vendors, music performers with the band, choir and other children's groups.
Iowa Park Restaurants
Rafter J BBQ & Cajon Eats in Iowa Park on Hwy 287 located at 507 SW Access Rd features American BBQ in a warm, friendly and relaxing atmosphere.  Only 15 minutes from Sheppard AFB, it makes a great location for going-away parties or office gatherings.  Rafter J draws people from all over the country.
Read Tammy G.'s review of Rafter J BBQ & Cajun Eats on Yelp
Read Erin A.'s review of Rafter J BBQ & Cajun Eats on Yelp
View Recent Iowa Park Real Estate for Sale
Search by City for Homes for Sale in Wichita County in WFMLS

Search Iowa Park Homes for Sale by Map