Wichita Falls Real Estate Market Report – May
 2017
Enjoy this Wichita Falls Real Estate Market Report for May 2017.  You may also search for homes for sale and save your favorite properties.  Set up a search and be alerted when new properties matching your criteria come on the market.
Search Wichita Falls Area Homes for Sale by Price
Wichita Falls Housing Market Rising off Strong First Quarter
Here is a look at the Wichita Falls Real Estate Market for May 2017.  According to a report released on May 12th by the Wichita Falls Association of REALTORS® (WFAR) 166 single family homes sold in April up from 153 homes sold in April 2016.  This is a 8.5% increase in home sales year over year with a corresponding 19% increase in sold volume.
A Look at Housing Stats
The Wichita Falls Association of REALTORS® (WFAR) covers 5 north Texas counties: Archer, Clay, Young, Wichita and Wilbarger.  In this area for the month of April 2017, here are the stats for the local real estate market:
166 Sales Closed — Up from 153 in April 2016
235 Homes were In Contract expected to close soon
205 New Listings went on the market
Average Days on Market (DoM) = 65
Active Listings = 537
Month's of Inventory = 3.2 Months
In the last 30 days there have been 39 Expired Listings.
The trend in median price is increasing with a corresponding increase in home sales, and this trend has been in place for the last several months.
What Does This Data Mean?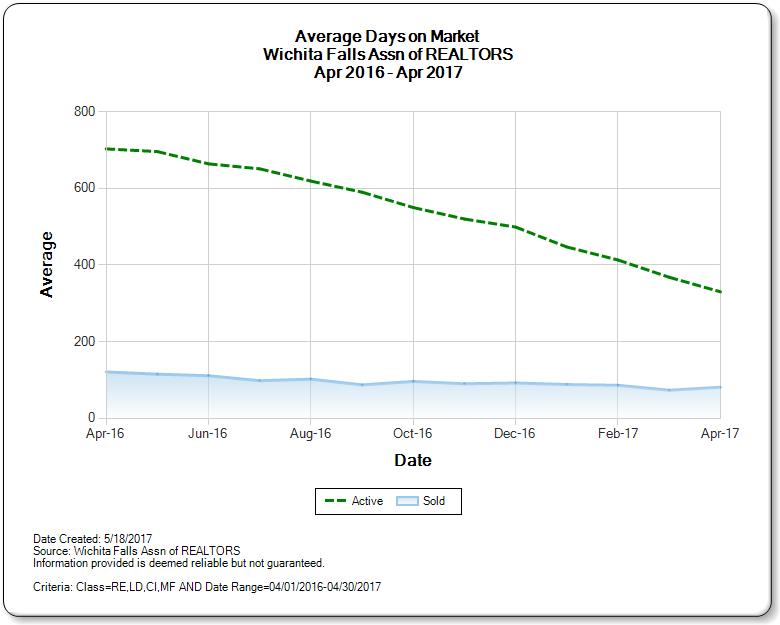 When we look at the Wichita Falls real estate market trends, the month's of inventory is a key number.  This number is the total number of sales in a given month divided into the total number of active listings.  In this case 166/537 = 3.2.  This means if no other listings were put on the market and the same number of homes continues to sell, it will take 3.2 months to exhaust the current inventory.  A neutral market is considered 6 months of inventory.  Anything less than 5 is considered a seller's market and anything greater than 7 is considered a buyer's market.
The Wichita Falls real estate market is Currently in a Seller's Market
What Does This Data Mean if I am Selling a Home in 2017?
Many people ask in which price ranges are homes selling in the local housing market, and the answer surprises many people.  There are homes selling in all price ranges.  For example, in April 11% of the homes sold were priced between $120,000 and $140,000; 9% were priced between $160,000 and $180,000; 6% were priced between $200,000 and $250,000; and 4% were priced between $300,000 and $500,000.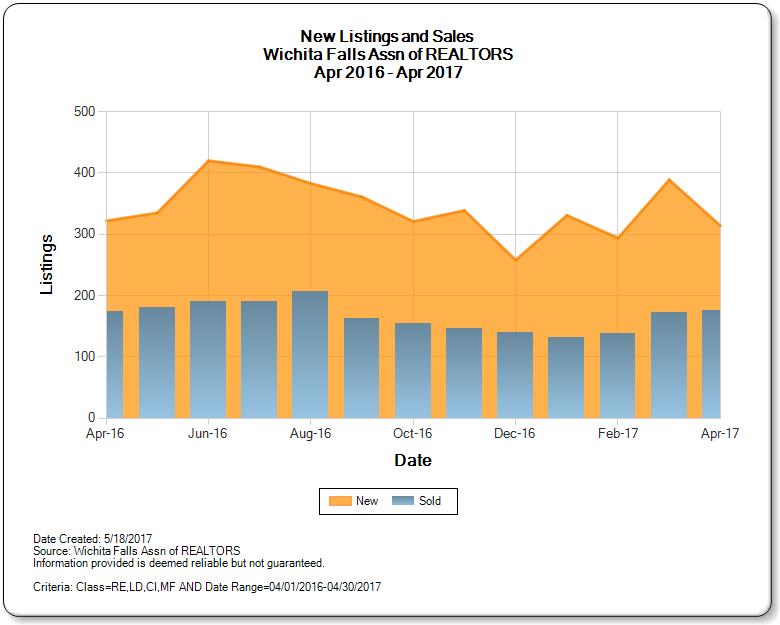 People do not normally sell a home simply because they have a home and the local housing market is favorable.  People buy and sell homes because there are life events happening.  These events might be a job transfer in or out of the area, or they want to move to be closer to grandchildren, or maybe another child is expected and a larger home is required for the growing family.  Some people move to be in a certain school district, or maybe they decide they want to be closer in or further away from town.  In other words, simply having a home in a seller's market is not going to be enough to cause someone to sell their home.  After all, moving is stressful.  If they do have a need to sell in the next year or so however, the strong market should be taken into consideration and might cause a family to choose to move up their selling timeline.
Currently the Wichita Falls real estate market is a strong seller's market, which has been sustained for quite some time.  Home prices are starting to rise and interest rates remain at historically low levels.  This means that there is greater home affordability for buyers with fewer homes from which to choose creating a wonderful opportunity for people with a home for sale.  We do not know the future, and do not know how long these favorable conditions will remain.
Many homes selling quickly in todays market are updated and staged well.  For tips on staging check out our post with advice on Selling a Home in Wichita Falls.
The housing market is changing on a daily basis, and you need a real estate professional who monitors this market and is able to interpret it for you and advise you on how to reach your real estate goals.  To find out how recent sales have affected the value of your home, click here to obtain your home value online in only 15 seconds.
What Does This Data Mean if I am Buying a Home in 2017?
There are definitely fewer homes available for sale in the real estate market right now than a year ago.  However, does this mean that it is a bad time to buy a home?  Not at all.  As a buyer in today's market there are many things to consider.  First, home prices have been depressed for several years and are just now starting to rise.  This means as a buyer there are still some great values available in the market.  Affordability is still very good.  Who knows what is going to happen to interest rates since the "experts" have been saying for over 8 years now that interest rates are going to increase "this year".  Will it happen in 2017?  We don't know.  What I can say with certainty is that one year, they will be right!
Something to keep in mind as a buyer is that if interest rates increase 1%, your purchasing power decreases by 10%.  What do we mean by that?  Let's take an example of a $200,000 home.  A $200,000 home with 5% down conventional financing will have a principal and interest payment of $1,045 at 4.25% interest.  Taxes and insurance are to be added to this number to arrive at your total payment.  If interest rates increase to 5.25% that $1,045 per month principal and interest will only buy a $180,000 home.  To check out different scenarios, click here for the Mortgage Calculator at this link or under the "Buy" dropdown menu above.
For more information on the process to buy a home in the Wichita Falls housing market check out The 6 Steps to Buying Home.
Check out the Most Recent Homes for Sale in Wichita Falls
See Other 2017 Wichita Falls Market Reports