Wichita Falls Real Estate Market Report
Enjoy this Wichita Falls Real Estate Market Report for January 2018.  You may also search for homes for sale and save your favorite properties.  Set up a search and be alerted when new properties matching your criteria come on the market.
Search Wichita Falls Area Homes for Sale by Price on WFMLS
Wichita Falls Housing Market Maintained a Seller's Market Throughout 2017
Here is a look at the Wichita Falls Real Estate Market for December 2017.  According to a report released on January 12th by the Wichita Falls Association of REALTORS® (WFAR), December 2017 saw 129 single family homes sold, up from 123 homes sold in December 2016 while the average price declined to $126K from $142K the year prior.  Homes for sale in Burkburnett TX are also strong indicating that sales throughout the region continue to look up.
From December of last year to December of this year the average price range for homes sold went down 12%
A Look at Housing Stats
The Wichita Falls Association of REALTORS® (WFAR) covers 5 north Texas counties: Archer, Clay, Young, Wichita and Wilbarger.  In this area for the month of November 2017:
129 Sales Closed — Up from 123 in December 2016
131 Homes were In Contract expected to close soon
137 New Listings went on the market
Average Days on Market (DoM) = 58
Active Listings = 467
Month's of Inventory = 3.6 Months
In the last 3 months there have been 240 Expired Listings.

What Does This Data Mean?
When we look at the market trends the month's of inventory is a key number.  This number is the total number of sales in a given month divided into the total number of active listings.  In this case 467/129 = 3.6.  This means if no other listings were put on the market and the same number of homes continues to sell, it will take 3 1/2 months to exhaust the current inventory.  A neutral or balanced market is considered 6 months of inventory.  Anything less than 5 is considered a seller's market and anything greater than 7 is considered a buyer's market.
Wichita Falls is Currently in a Seller's Market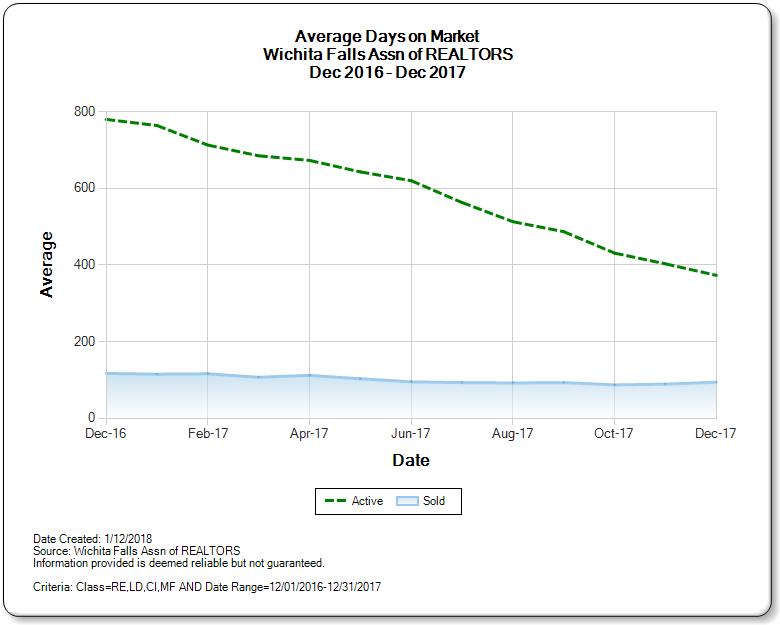 View Burkburnett TX Real Estate by Price
What Does This Data Mean if I am Selling a Home in 2018?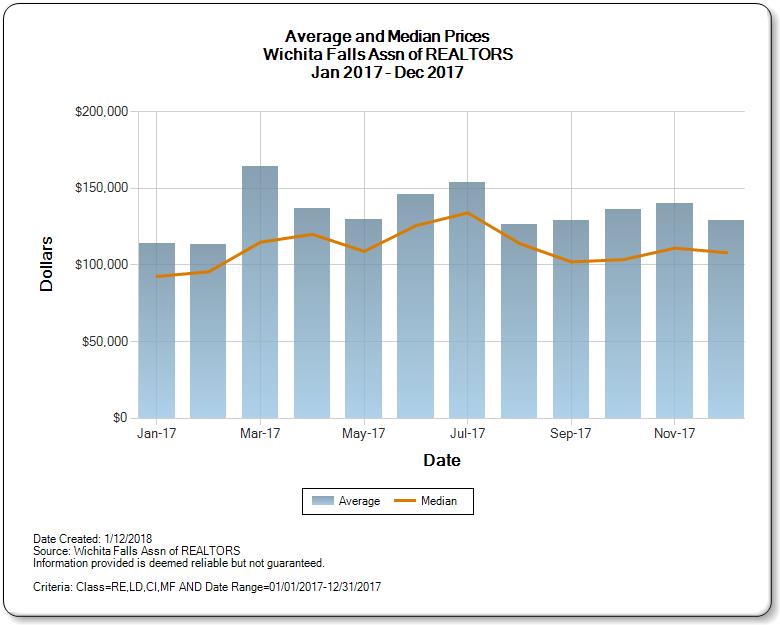 The first of the year can be a great time to sell a home in north Texas, and actually our business picked up in activity through the holidays.  Yes, people do move during the winter.  I realize that statement might go against the grain or even shock you.  Why would someone buy during this time of year?
Job Transfers / Military orders
Visiting family and friends and subject of moving closer comes up
Unforeseen life events… Life Happens!
It is absolutely certain that a larger number of homes sell in the summer months, as demonstrated in the graphs we have here, however people looking to buy when the weather is cold and dreary are are more serious.  Therefore, when selling during the winter, you are inconvenienced less by showings and the people who do schedule appointments are higher quality buyers.  We are still in a seller's market with low inventory, so people who need to move now are going to select from the relatively few homes available while your competition is waiting for the spring.  Therefore, you can command a higher price.  And, by the way, we only need one buyer to buy your home.  Also, by listing now, you will be closing about the time the others who have waited until after the holidays are listing giving you a greater selection of homes and more options.
Not all Wichita Falls REALTORS® are the same.  You want one who communicates often, watches the market like a hawk, and has a proven track record of selling homes.
We currently have  pre-qualified buyers looking for homes in the Wichita Falls, Burkburnett and Iowa Park areas who have not yet found the home they want from the available active listings in the WFMLS.  Therefore, we are actively seeking new homes to list and enter the market.
Others Have Asked . . .
If you are thinking of selling and wonder how much your house might sell for in today's Greater Wichita Falls Area Real Estate Market, use this
instant home value estimate
or call 940-228-1730. We serve north Texas, and have partners across the nation as well.
Many homes selling quickly in todays market are updated and staged well.  For tips on staging check out our post How to Sell a House Fast in Wichita Falls.
The housing market is changing on a daily basis, and you need a real estate professional who monitors this market and is able to interpret it for you and advise you on how to reach your real estate goals.  To find out how recent sales have affected the value of your home, click here to obtain your home value online in only 15 seconds.
What Does This Data Mean if I am Buying a Home in 2018?
Inventory is lower than we have seen in the last several years, so there are fewer quality homes from which to choose.  Interest rates have started to climb and fluctuate daily, and working with a good loan officer is important to obtain the best loan product for your situation.  Obtaining pre-qualification prior to looking at homes is a wise decision.  This accomplishes several things.  First, it turns you into a cash buyer giving you leverage and can save you money during negotiations.  Second, it ensures we are looking in the correct price range.  There are not many more frustrating things to home buyers than looking at homes only to find out they are looking in too low or too high of a price range.  At the Lockhart Real Estate Team we are careful to select the best homes for you first that meet your needs and wants in the price range with which you are comfortable.
If you're looking for a move-in ready home, then you might find the available inventory of homes for sale quite low in certain neighborhoods.  At the Lockhart Real Estate Team, we will take a few moments up front to get to know you and conduct a needs analysis and buyer's consultation.  This serves a couple purposes.  First we get to know you and your needs and wants to help us narrow down the hundreds of homes on the market to that select handful that truly meet your criteria.  Second, we are able to walk you through the buying process from beginning to end to ensure you are comfortable and confident moving forward.
For more information on the process to buy a home in Wichita Falls check out The 6 Steps to Buying Home.
Check out the Most Recent Homes for Sale in Wichita Falls TX
Burkburnett TX Real Estate For Sale by Neighborhood
Wichita Falls Real Estate Market Report Enjoy this Wichita Falls Real Estate Market Report for June 2018.  You may also search for homes for sale and save your favorite properties.  Set up a search and be alerted when new properties matching your criteria come on the market. Search Wichita Falls Area Homes for Sale by […]
Read Archived Wichita Falls Real Estate Market Reports | Compare this month to previous months
Wichita Falls Real Estate Market Report Enjoy this Wichita Falls Real Estate Market Report for June 2018.  You may also search for homes for sale and save your favorite properties.  Set up a search and be alerted when new properties matching your criteria come on the market. Search Wichita Falls Area Homes for Sale by […]