How to Choose the Right Colors to Sell Your Home Fast
Sellers frequently ask if they should go ahead and paint and do other work or is it better to let potential buyers choose the colors they want.  The answer is simple.  As long as light, neutral colors are used a freshly painted house is a key component of staging your home for a quick sale.  It is proven that people make buying decisions based on emotion and back up those decisions with logic.  Therefore, if you choose the right colors to sell your home fast, thus creating a bright, clean and welcoming environment, this will evoke the favorable emotions in buyers' minds which lead to a decision.  For specific advice on the best colors for staging your home contact Lisa Lothenore at Staging Spaces Interior Designs.
Best colors for Today
Neutral colors are the best when you choose the right colors to sell Your home fast by painting your home before putting it on the market.  Color tones of beige, tan, grey and white are the best to use.
People can customize the living space with their furniture, pictures, throw pillows, and blankets.  Sherwin Williams 2017 Color Forecast is a good source for determining the best colors for today used by architects and home builders.  Today's color pallet has a feel of comfortable luxury.
We're in pursuit of an elusive ideal: a fair luxury. The roads of this journey are lined with arctic neutrals, blush rose and wild browns. – Sherwin Williams 2017 Color Forecast
The cool tones are calm and inviting.  Tones of grey are very popular right now with white accents.  Some builders are reversing the colors using a darker grey on doors and trim, with lighter grey on the walls.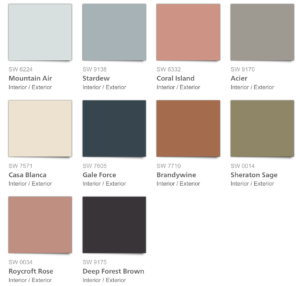 Color is not the only consideration when selecting paint.  The sheen is also important.  Flat is the least expensive and less durable in that it is more difficult to clean dirt and scuffs.  The more gloss added to the paint makes the sheen more reflective and also more durable.  The spectrum of sheen goes from flat to eggshell to satin to high gloss.  Many people prefer eggshell for the walls and satin for the doors and trim.  The eggshell finish gives just enough gloss to make the walls easier to clean and more durable, yet avoids the industrial look of high gloss.  Using satin on the doors and trim gives an extra accent which is subtle yet effective.
The market is constantly changing.  Each home that sells in your neighborhood changes the value of your home.   Call 940-228-1730 or use our Instant Home Valuation Calculator.  The Lockhart Real Estate Team | Keller Williams Realty specializes in selling homes in Wichita Falls and north Texas communities.  This tool allows you to obtain an on-line home value in only 15 seconds.
Check out our Comprehensive Guide about selling your home including Staging Tips to Sell Your House Fast in Wichita Falls.
View Most Recent Listings