Arlington TX Real Estate Market Report – August 2017
Enjoy this Arlington TX Real Estate Market Report for August 2017.  You may also search for homes for sale and save your favorite properties.  Set up a search and be alerted when new properties matching your criteria come on the market.
Search Arlington TX Homes for Sale by Zip Code
Arlington TX Home Sales Remain Strong in 2017
Here is a look at the Arlington TX Real Estate Market for August 2017.  July saw a 5.9% decrease in closed sales with an 11.1% decrease in new listings and average days on market of homes for sale in Arlington TX remaining in the single digits.
A Look at Housing Stats
Arlington real estate statistics are tracked in the North Texas Real Estate Information System (NTREIS), more commonly known as the Multiple Listing Service or MLS.  This is a look at all residential property types including single-family homes, condominiums, townhouses, and farm & ranch properties, including both resale and new construction.  In Arlington for the month of July 2017:
384 Sales Closed — Down 5.9% from 408 in July 2016

397 Homes were In Contract expected to close soon

471 New Listings went on the market, Down 11.1% from 530 in July 2016

Average Days on Market (DoM) = 8 — Up 14% from 7 in July 2016

Active Listings = 555 — Down 12.3% from 633 in July 2016

Month's of Inventory = 1.5 Months
In the last 3 months there have been 58 listings expire without being sold.
The trend in original list price has increased 4% from 189,900 in July 2016 to $197,500 in July 2017 with average list price to sales price ratio remaining at 100% indicating that even though there has been a monthly decrease in home sales, the market trend upward throughout this year is resulting in higher prices.
Search Arlington TX Real Estate by Price
What Does This Data Mean?
When we look at the market trends the month's of inventory is a key number.  This number is the total number of home sales in a given month divided into the total number of active listings.  In this case 555/384 = 1.5 (rounded).  This means if no other listings were put on the market and the same number of homes continues to sell, it will take 1.5 months to exhaust the current inventory.  A neutral market is considered 6 months of inventory.  Anything less than 5 is considered a seller's market and anything greater than 7 is considered a buyer's market.
Arlington is Currently in a Seller's Market
What Does This Data Mean if I am Selling a Home in 2017?
Arlington, as well as the rest of north Texas has experienced four years of record homes sales with each of the last four years beating out the previous year.  This indicates that a shift in the market is imminent.  We don't know exactly when the shift will hit or how drastic it will be, however beginning signs of a shift are beginning to materialize.  If your realtor is not tracking the market, then you might miss the opportunity to obtain top dollar for your home.  It all comes down to price. Homes that are in good condition, staged well and priced right are selling quickly, and there are also houses sitting on the market and even expired listings.  Therefore, the market is really two markets in one.  Also, it is important to know that each individual neighborhood can vary quite substantially from the next.  If you're considering selling your home in today's market, contrary to popular belief it takes a lot more than simply placing a sign in the yard and waiting for the phone to ring.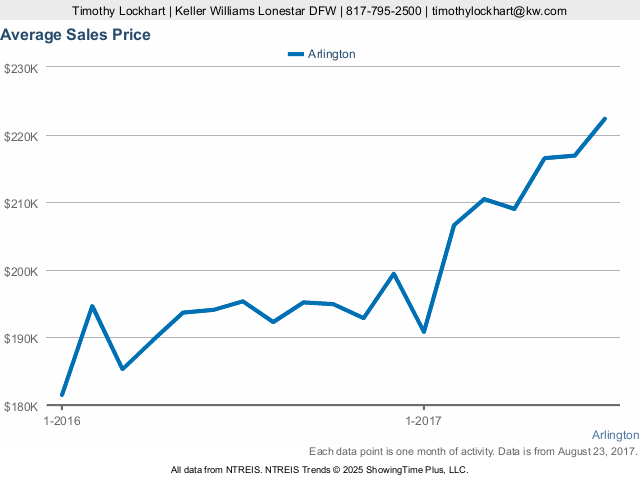 At the Lockhart Real Estate Team, we offer free consultations where we will review what the most recent homes have sold for that are most closely comparable to yours as well as look at the exiting active inventory buyers will see and compare to yours.  With this information in hand, we can de
velop a tailored marketing approach which starts with strategically pricing your home so it screams value to the buyers in today's market.
Learn more about Closing Costs when Selling a Home in Arlington TX.
The housing market is changing on a daily basis, and you need a real estate professional who monitors this market and is able to interpret it for you and advise you on how to reach your real estate goals.  To find out how recent sales have affected the value of your home, click here to obtain your home value online in only 15 seconds.
What Does This Data Mean if I am Buying a Home in 2017?
The great news for buyers is with today's interest rates remaining so low, home affordability remains very favorable.  Arlington home prices are lower than many other DFW areas.  Since interest rates are continuing to remain at historic lows, it becomes less expensive to buy then it does to rent the same home.  If you have been renting, it might surprise you to know that many people can actually buy a similar home with lower monthly payments than their current rent.  There are also significant tax advantages to buying a home versus renting.

This graph shows the average percentage for sales price versus original listing price for houses in Arlington.  Over the last year this has seen little fluctuation maintaining between 97% and 100% throughout most of the year.  Many neighborhoods are still seeing offers above list price so this average needs to be looked at for each particular neighborhood in which you are interested in buying a home.
If a home you like is on the market and in move-in-ready condition then it is important to move quickly.  We offer a free buyer's consultation where we can walk you through the entire home buying process from beginning to end so you feel comfortable and confident moving forward.  It is also important to speak with a lender about becoming pre-qualified so that 1) we are sure which price range to look and 2) we are able to move quickly when we find you that perfect home.
Learn more about Closing Costs when Buying a Home in Arlington TX
Check out the Most Recent Homes for Sale in Arlington TX