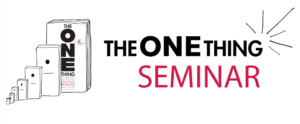 The ONE Thing Seminar, Stop Everything and do ONE Thing. If you could invest a few hours doing ONE Thing that could change the trajectory of your life, would it be worth it? Based on The ONE Thing, Gary Keller's #1 Wall Street Journal bestseller featured on more than 250 bestseller lists, this seminar reveals the surprisingly simple truth behind extraordinary results. The ONE Thing is a book for busy people who want to accomplish more by doing less.
Wichita Falls, TX, March 03, 2017 –(PR.com)– Tim Lockhart, owner and lead agent of the Lockhart Real Estate Team, Keller Williams Realty is making it possible to bring national speaker and Vice President of MAPS Business Training, Don Hobbs to Wichita Falls.
Read the entire press release here.