How to Sell a House with Owner Financing
When looking to seller your home fast, one thing to consider is eliminating as many hinderances there are for buyers of your home.  The price and the condition are extremely important factors.  Another factor that is very important to buyers is financing.  Would you consider owner financing your home?  If so, are you aware of the risks involved and how this decision will affect your ability to buy another home.
When you decide to owner finance your home then you become the bank.  This can be a better option than renting.  When you rent, you are still the owner and must deal with tenants, maintenance, turnover and taking calls at all hours of the night and weekend.  It can be a real burden.  On the other hand, if someone owns a home and has a loan with a financial institution such as Chase Bank or Bank of America, do they get called when the toilet overflows or the air conditioner goes out?  Of course not.  Therefore, when you owner finance your home, you get the monthly income as you would in a lease without the headache of tenants and toilets.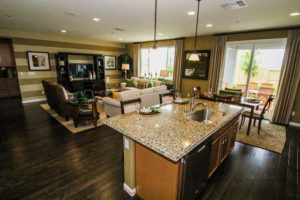 If you have a mortgage on your home, it does not necessarily need to be paid off.  We recommend you speak with a local attorney versed in real estate law on the specifics.  However, in general you can speak with your lender and in some cases they will allow you to do what is termed a Wrap mortgage.  This is when the original loan stays in place and the new note you're carrying for your buyer "wraps" around the existing financing.  So, you take the payment from your buyer each month and pay your mortgage payment similar to what you would do if the home was leased.  Not all lenders will agree to this, however when they do it makes sense in a lot of cases.  This could also be used in an investing model, however there is another consideration, which is the SAFE Act.
The SAFE Act was passed after the 2008 housing crisis as a way to protect consumers from the big banks.  Each state is required to pass their own version of the act and the federal regulations governing the execution of this at the federal level are still fuzzy.  Yes, that is the technical term, the rules are fuzzy to say the least.  If this is an avenue you wish to pursue, get a lawyer well versed in real estate law because if you do this wrong the fines and penalties are significant.
If you do choose to owner finance, you could do so on your own, with an attorney or with a real estate agent.  Keep in mind that there will still be closing cost on your side as a seller, so make sure whatever down payment you agree to covers your expenses since it would not be fun to come out of pocket to sell your home when taking the note.
What are some other considerations?  Since, you are the bank, you are going to want to qualify your buyer on their ability to pay just as the bank would.  If your buyer does not pay, then you will foreclose and take the house back.
What is there to protect you from the buyers defaulting on the payments?  Well there will be a note, and in Texas we are a deed of trust state, so you will have a deed of trust filed at the court.  These two documents together protect you and basically say if the buyer does not pay in accordance with the note, you have the legal right to take possession of the house through the foreclosure process.  You will also want to be named as a co-insured on the homeowner's insurance police so that in the event something happens to the home you have a collateral such as a fire, you will be compensated as a note holder.  There is also title insurance which insures your interest in the title.
Every situation is unique and owner financing might be a good solution for you.  As outlined above, there are several advantage as well as several items of caution.  If you are looking to sell your home and would like to know what other homes in the neighborhood have sold for most recently, check out our online home valuation tool and give us a call at 940-228-1730 and we will be happy to explore available options with you.
Check out our Comprehensive Guide discussing Financing and other aspects of Selling a Home.